Cub Cadet Challenger 550 Yellow Utility Vehicle, UV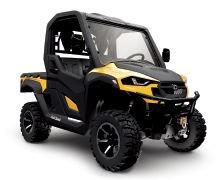 Cub Cadet Challenger 550 Yellow Utility Vehicle, UV
27.5 HP 546cc Liquid-Cooled OHV EFI Liquid-Cooled EFI Yellow

High-sided sealed Doors and windshield offer protection from dirt,mud and water.

Offers more protection for work and play in all weather and seasons with the capacity for endless customization.

Bolstered seats provide all-day comfort

Digital dash display

Bumper guard

Large profile 26" off-road tires

Fully engineered, reinforced frame and adjustable 4-wheel suspension with oversized hardware

Equipped with a loaded standard equipment package - one of the best on the market

Maybe you're thinking, we're a little more expensive,
but here's what you get and we'll even match the big box store's advertised price:

1. Preferred Customer Labor Discount
2. Parts Discount
3. Service Priority
4. A Double Engine Warranty – Free
5. Professionally Trained Technicians who actually perform "Customer Service" not just "Talk on the Phone" about it or send your problems away - out of "Their" store.

Come in, "kick the tires" or visit our web stores!

no phone calls please

Bring in their active ad, we'll match it !